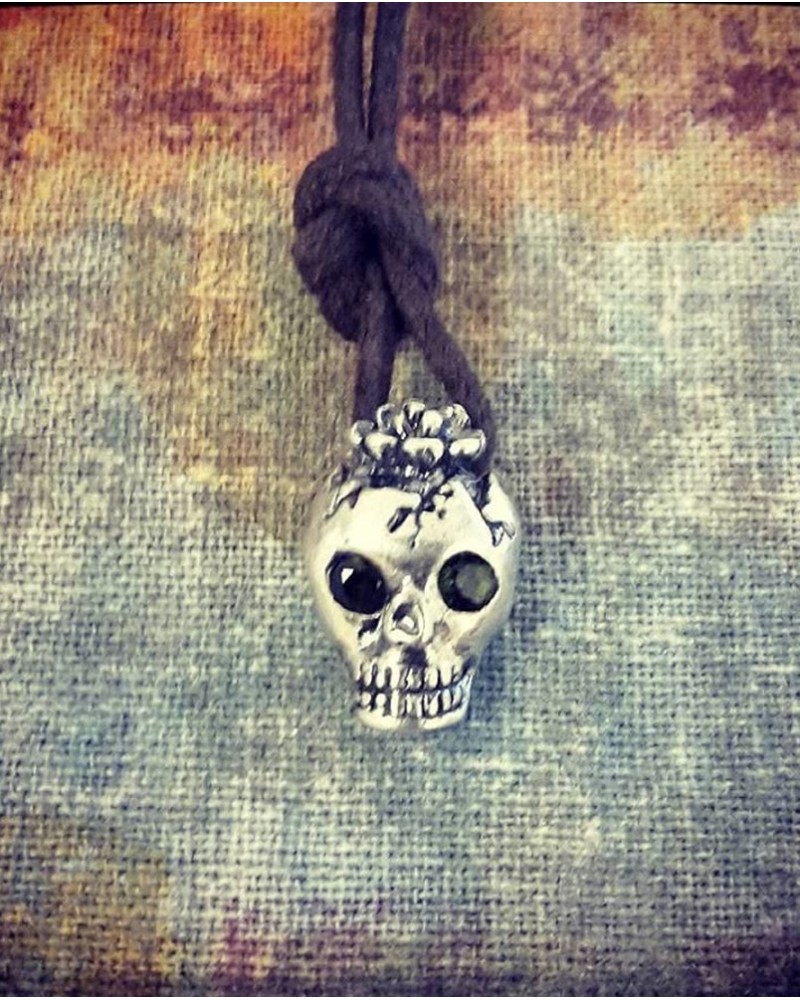  
Catherine Michiels - Little Bob Charm
"Memento Mori" is Bob's mantra. Loosely translated as "Eat, drink and be merry, for tomorrow you may die."
Celebrate now !
FREE DELIVERY TO FRANCE
Every Catherine Michiels's creation has a history and is a bearer of a message, in connection with the spiritual world.
Bob's mantra is "Memento Mori": remember that you will die.
The pirates displayed on their famous flag a skull and crossed shinsthat meant : "drink, eat, have fun, enjoy life... before it is too late".
"Memento mori" comes to us from Roman antiquity: when a victorious Roman general was carried in triumph through the city, a slave stationed behind him was instructed to repeat this sentence, so that the triumph does not go to his head... In art, the Memento mori becomes vanity, with the representation of death that takes the rich and the poor alike.
This amulet measures 17 mm, Bob's eyes are made of blue sapphire or tourmaline.
A special edition "David Bowie" has a blue eye and a green eye...
All are available in bronze, sterling silver or in Yellow Gold, White Gold or Rose Gold.
Price of gold is upon request: please call Frederic (+33 6 87 32 58 68) or email requests to lamaisonsurlasorgue@wanadoo.fr with the item name, material, stones (if any) and quantity desired.
Your charm will be shipped on a silk tie in one of the colors from the current season's palette. If you have a specific color preference, please write us a note.
Catherine Michiels is our long-time friend. Every year, she comes and spends a few days at the Hotel La Maison Sur La Sorgue, where she finds her tribe of Provence. 
To receive her news and to be invited to the presentations of her new collections, please subscribe to the Retour de Voyage newsletter.
Data sheet
Type of product

Jewellery

Type of product

Jewels - Charms

Gift Ideas

Porte Bonheur Charm

Gift Ideas

For curious people

Gift Ideas

A jewel for her or for him
No customer reviews for the moment.