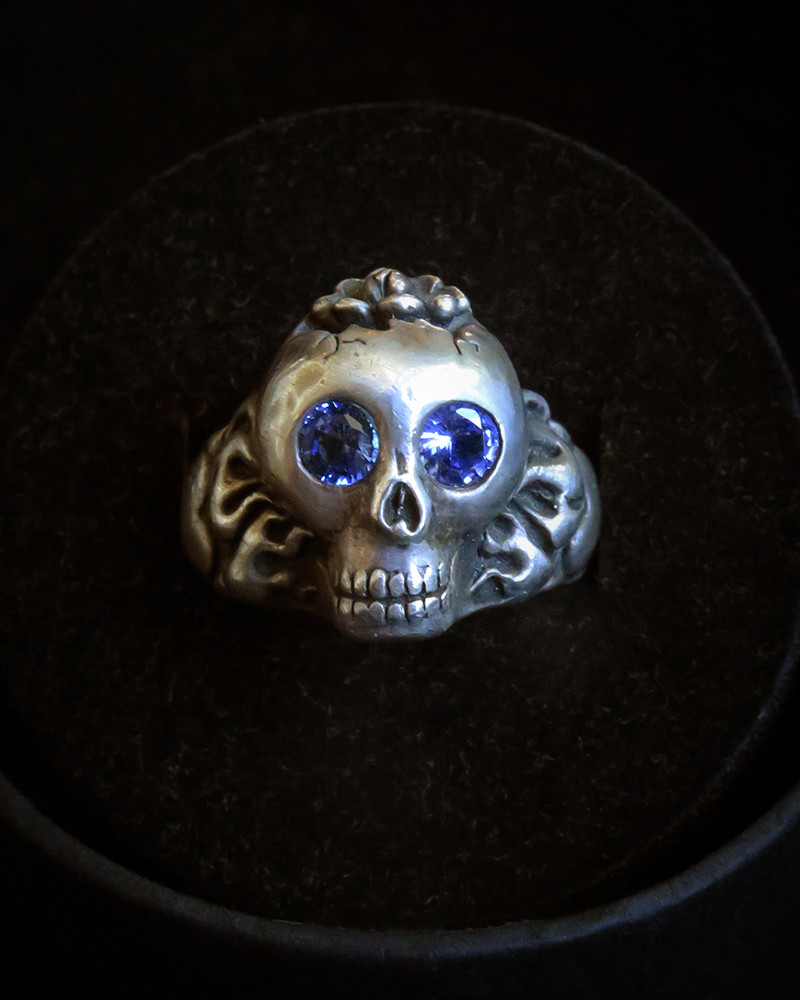  
Catherine Michiels - Bob ring
Bob Solid silver Ring, eyes made of blue sapphires
Original creation by Catherine Michiels, Sélectionnée par Retour De Voyage
Free delivery in France (upon validation of your address)
Available in size M
The Bob ring is suitable for both men and women, more imposing than its younger brother Le Petit Bob, its message is no less strong. Made of 925 silver, with sapphire eyes, this ring has found its place in the hands of Lenny Kravitz or the no less famous Angelina Jolie...  
With his carefree smile and his lotus positioned as a crown on the head chakra for spiritual awakening, Bob always makes a great impression. Encircling your finger, Bob is a daily reminder to put life into perspective: like a vanity figure representing the fragility of human life. "Memento mori" is Bob's mantra, which loosely translates as "eat, drink and be merry, for tomorrow you may die". Far from being a bad omen, Bob only wishes you well and encourages you to enjoy life and the small pleasures that litter the everyday. He accompanies you every day and tells you to live in the moment, without worrying about the future. We should all have a Little Bob on our finger! 
Catherine Michiels does not just design jewellery, as a Reiki Master she breathes a soul into each of her creations and gives substance to an energy. Each piece has a meaning, a connection with those who will receive it. These jewels are haloed with benevolence, zenitude for a bohemian chic style. 
Selected by Retour De Voyage, Bob is available immediately in size M. Do not hesitate to contact us for more information. 
Data sheet
Type of product

Jewellery

Type of product

Jewels - Charms

Gift Ideas

Porte Bonheur Charm

Gift Ideas

For Lovers

Gift Ideas

Mothers Day
No customer reviews for the moment.