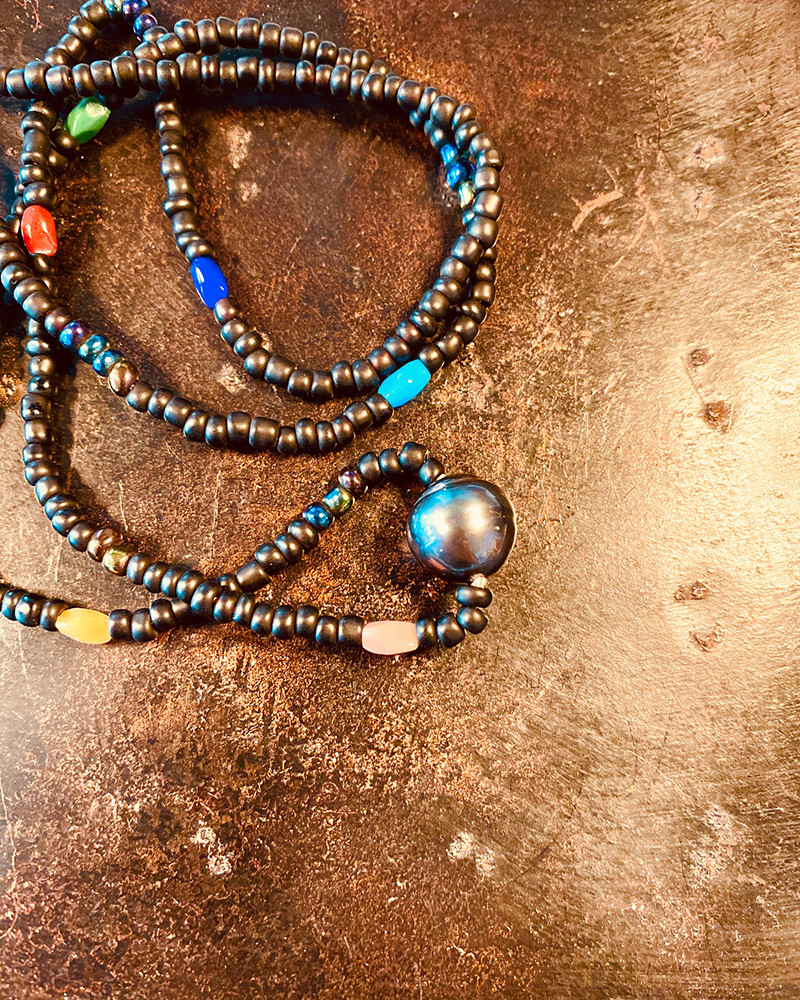  
Catherine Michiels - Onyx and Pearl Necklace
Necklace in Onyx with a beautiful Tahitian pearl color eggplant (1.2 cm in diameter) and semi-precious pearls. Original creation by Catherine Michiels.
Subscribe to our Newsletter, we invite you to share a drink with her and discover her latest creations when this globe trotter stops at La Maison Sur La Sorgue, once a year ...
FREE DELIVERY IN FRANCE
This necklace composed of semi-precious stones and a Tahitian pearl is worn in an elegant and nonchalant way, as well in summer as on a top or dress more dressed... Catherine chose an eggplant pearl color perfectly in the tones of the sautoir. This elegant pearl symbolizes lasting beauty in Tahitian mythology. It is often associated with innocence and wisdom. It is often accompanied by a mysterious aura, representing the encounter between the rainbow and the earth. The Tahitian pearl also carries many medicinal beliefs, bringing vitality and energy and fighting against melancholy.
When we met Catherine and her husband David during their stay at La Maison Sur la Sorgue, we were immediately seduced by her energy, charm and open-mindedness... and her jewels. By meeting this "fashionable" woman, we were immediately attracted by her way of dressing and by the bracelets, necklaces and jewelry that gave her a "bohemian chic" style. Very quickly the relationship became friendly and we followed with attention the presentation that Catherine made us of the jewels that she wore on her... These jewels that fascinated us turned out to be his own creations. We couldn't do without them anymore... and Catherine left without her jewels, we kept them so that we could make our clients discover them.
Data sheet
Type of product

Jewellery

Type of product

Jewels - Necklaces and Pendants

Gift Ideas

Porte Bonheur Charm

Gift Ideas

Mothers Day

Gift Ideas

Magnificent Jewel for Her
No customer reviews for the moment.