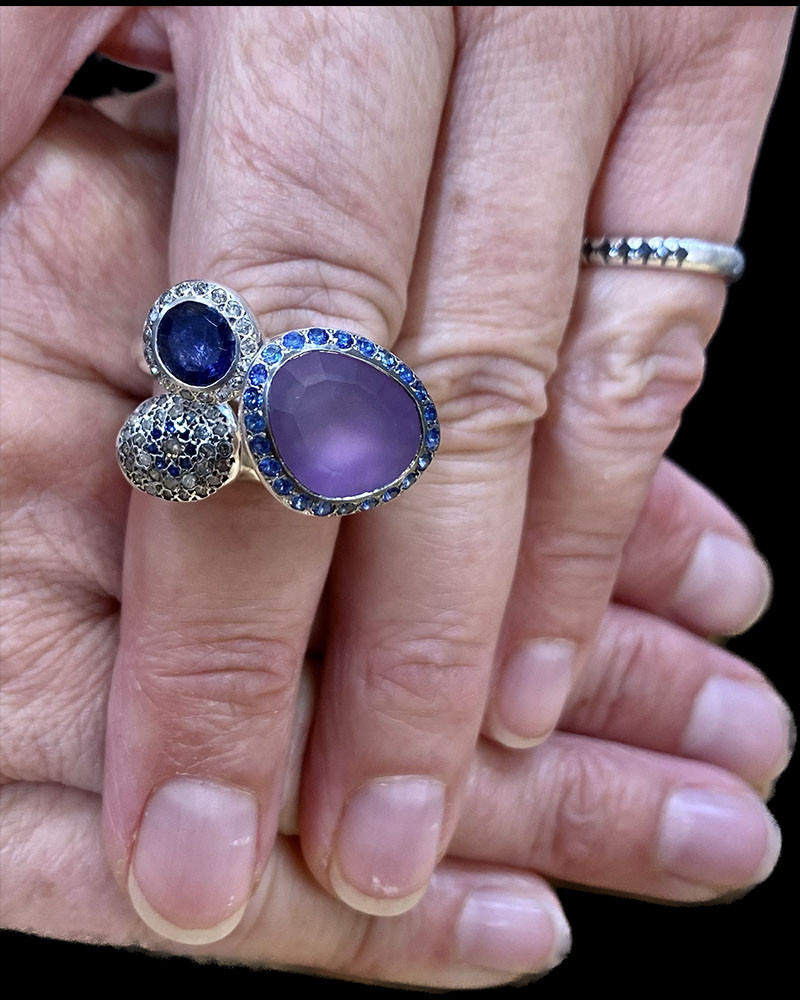  
bouquet romantic blue flowers
A bouquet of blue rings, to wear together... or separately, or to match with others!
Top left, a deep blue iolite surrounded by Icy Grey diamonds
Below, a small pavé of diamonds dotted with sapphires in the shape of a flower,
And on the far right, a magnificent amethyst surrounded by blue sapphires.
The choice of Rosa Maria rings is not a trivial one... Rare jewels that are instantly recognisable, avant-garde jewels with a very special style, with a "je ne sais quoi" of Middle Eastern magic... their seductive power will make you fall in love with them, because you'll soon want to multiply and assemble the rings, on the same finger, or on several fingers... or on both hands. You'll create a unique piece of jewellery that reflects you, your creativity and your emotions. Take the time to choose, to combine the shapes and colours of the stones... Let your inspiration flow and we'll be there to advise you on the choice of shapes and heights for each ring... These avant-garde shapes inspired by the long tradition of Beirut jewellery are made for each and every one of you, and it's up to you to find the ones that will suit you best in Rosa Maria's inspiration.
Data sheet
Type of product

Jewels - Rings

Gift Ideas

Magnificent Jewel for Her

Gift Ideas

A rare treat
No customer reviews for the moment.