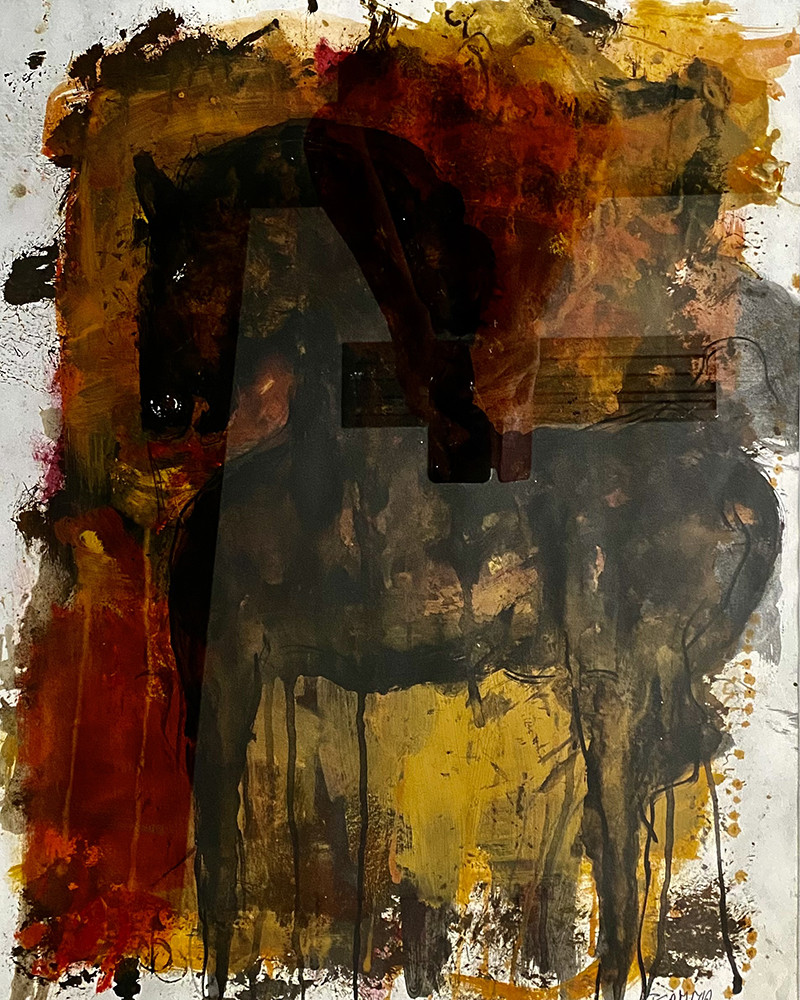  
Pierre Sgamma - Drawing 4
Drawing of a horse in profile - Pierre Sgamma
Painting
Size : 63 x 78 cm
For more information, contact Frédéric at +33 6 87 32 58 68
This large-format drawing is a fascinating work by Pierre Sgamma. Best known for his sculptures and ceramics, the artist shows us that he is multi-talented and that his art is expressed in different forms. Here, the silhouette of a horse in black profile with an imposing neck appears on a mixture of ochre colours. The brushstrokes are raw and pronounced, the flowing materials give an impression of immediacy in the creation. In spite of this "wild" side in the relationship with the material, the result is paradoxically delicate. Pierre Sgamma's art lies in this subtlety... 
It is impossible to remain indifferent to the creations of Pierre Sgamma. His sometimes enigmatic creations disturb, move, provoke and even shock. This artist has developed his own plastic language, a singular universe that unfolds with great freedom of expression. All in poetry and sensitivity, Pierre Sgamma's world shakes us up, scratches us and moves us between tearing and appeasement. He transcends established codes by juxtaposing the sublime and the grotesque, candour and perversity. He says: "In the most intense moments of production and creation, I don't work, I play. Each piece is a piece of me, loaded with my experience of love, violence, fears, lacks, desires. I make fun of myself, of this great comedy that is life. 
Retour De Voyage has a big crush on this painting which expresses strength and gentleness, bestiality and appeasement, all these paradoxes which run through us and of which horses turn out to be the ultimate readers...
Data sheet
Type of product

Art - Sculpture

Gift Ideas

Artwork
No customer reviews for the moment.