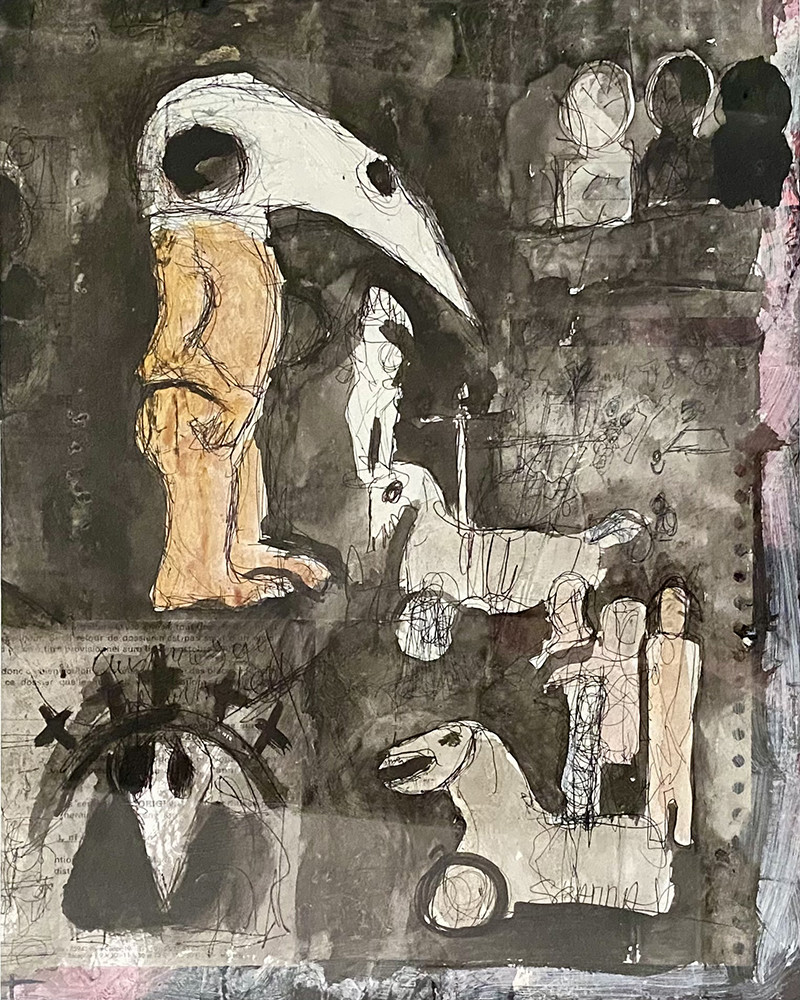  
Pierre Sgamma - Drawing 2
Drawing - Pierre Sgamma
Paint and pen
52,5 x 62,5cm 
For more information, contact Frédéric at +33 6 87 32 58 68
This drawing by Pierre Sgamma is fantastic because it takes us into his creative process. If we can easily recognise his "artistic touch", here we follow him in the fulgurating process of creation: the support is nothing but pages of paper assembled together. We grasp the burst of creativity, the idea that emerges and hurries to find a support. The nuances brought by the paint give relief to the project and the most knowledgeable will recognize the sculpture that followed this drawing .... 
It is impossible to remain indifferent to the creations of Pierre Sgamma. His sometimes enigmatic creations disturb, move, provoke and even shock. This artist has developed his own plastic language, a singular universe that unfolds with great freedom of expression. All in poetry and sensitivity, Pierre Sgamma's world shakes us up, scratches us and moves us between tearing and appeasement. He transcends established codes by juxtaposing the sublime and the grotesque, candour and perversity. He says: "In the most intense moments of production and creation, I don't work, I play. Each piece is a piece of me, loaded with my experience of love, violence, fears, lacks, desires. I make fun of myself, of this great comedy that is life. 
Retour De Voyage knew that Pierre Sgamma was an accomplished multidisciplinary artist, that he approached art in a transversal way, but we remain stunned by this drawing.
Data sheet
Type of product

Art - Sculpture

Gift Ideas

Artwork
No customer reviews for the moment.