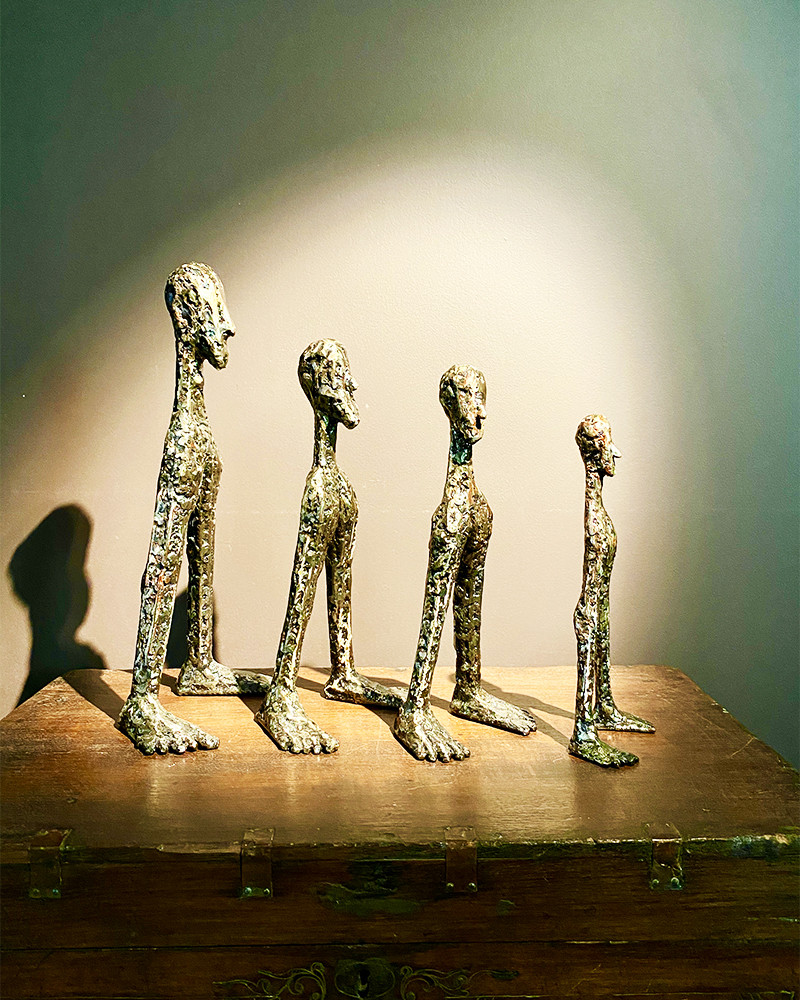  
Sils
Seydina Issa Laye Seck, known as SILS, was for 17 years the assistant welder of the artist Ndary Lo who transmitted to the apprentice an artistic world and a unique technique, the welding of iron rods between them, to draw with the stroke of metal the volumes of a humanity in motion.
During the exhibition SILENT WALKS, La Maison Sur La Sorgue presents the works of SILS.
Seydina Issa Laye Seck dit SILS was born in 1984 in Mbao, near Dakar, the youngest of a leper family. His first name predestined him to belong to the Layene brotherhood. When, as a child, my parents sent me for three months of holidays to lead the talibé life in Tivaouane in a Tijane daara, I already felt layen. That's what I am most. When no one is called like you and you have a layene name, you have been since birth." Two lighthouses gather the faithful of this brotherhood, two major figures who succeeded each other as the disciple inherited the master: Seydina Limamou, the founder, and his son Seydina Issa, thirty-three years old when he had to continue the work of his late father. The story of miracles linked to water, the integration of ancient practices and the transmission of values of openness are already found in some pieces imprinted with the artist's spirituality.
If the imagination of SILS is inhabited by its spiritual practice, its work is first and foremost the fruit of a seventeen-year transmission as an assistant welder of the artist Ndary Lô, from 2000 to 2017. It was during this period that he learned to watch, to love a work, and to "work well and hard," he recalls. He did not create for himself, he served his elder. When he had received the ultimate teaching from his master, SILS reached thirty-three years of age (like Seydina Issa heir to Limamou) and seventeen years of initiation and practice... The night of June! Seventeen years! 'We let ourselves be fooled.
We can think with Arthur Rimbaud, that the personal creative impulse began to emancipate on this date but it is later that he finds his way. The premature disappearance of the master first led the welding companion, to devote himself to orphan works that had to be classified, restored, exhibited in the most prestigious places. When Ndary was still alive, I didn't think of making a personal work, but today, doing nothing to me would stop Ndary's creation. He wants my good, and by my creation I want to make him happy."
Out of its seventeen years of learning, SILS let itself be grey for its first creation by a Baye Fall. Out of interest for the Mouride Sheikh Ibra Fall, also disciple of Sheikh Ahmadou Bamba whose message he continued. By taste also the sophisticated accoutrement of this category of workers. His gaze on the object realized, his tireless return on the works, his slow and deep reflection, his experiments, his permanent research, make of him an artist that the perfect mastery of the technique allows to the adventure in the unknown.
Data sheet
Type of product

Art - Sculpture

Gift Ideas

Artwork
No customer reviews for the moment.