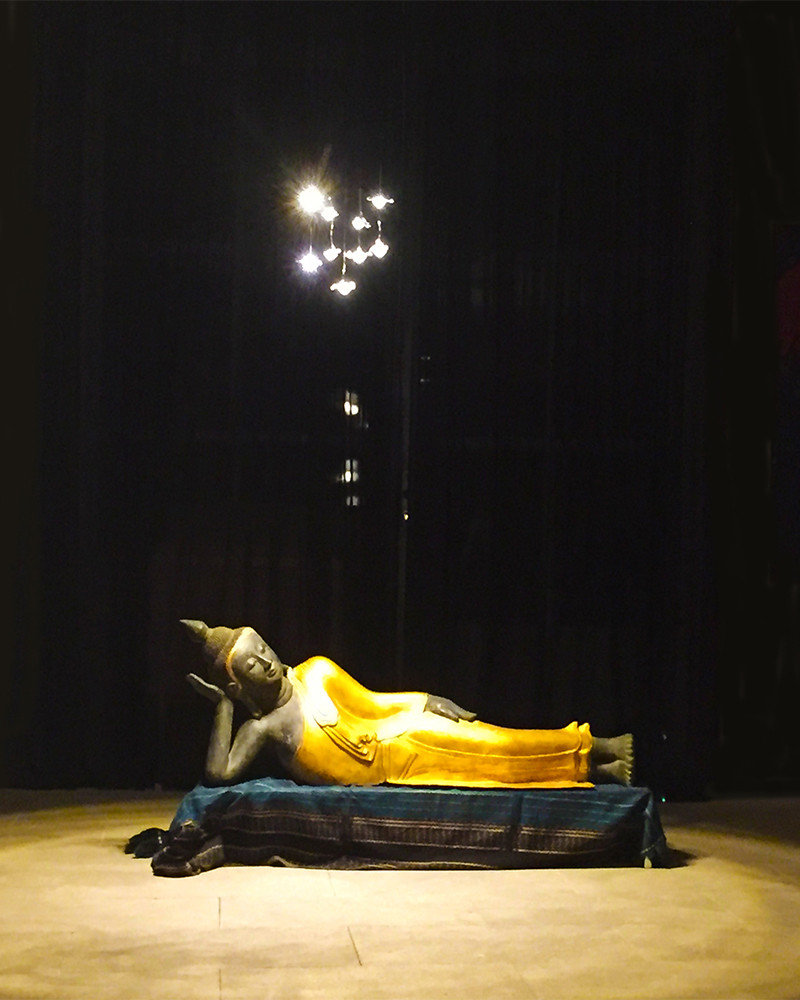  
Burma - Gold-leaf reclining Buddha
PRICE ON REQUEST
This bronze statue was found in Myanmar (Burma). It was made by a craftsman according to the lost-wax method at the end of the 19th century. Having been left in a monastery in the centre of Myanmar for so long, it belonged to a Burmese collector before we acquired it to enrich our private collection. This exclusive object is now for sale.
Dimensions : width 190 cm, depth 35 cm, height 42 cm
Bronze Statue, Gold Leaf Dress, L 140 cm
We spent long hours observing Burmese sculptors to understand how a lost wax bronze statue is made... But there are many steps in this process, which are spread over several days, weeks or months depending on the quality and size of the statue. Our observation took place from time to time, at different steps and we are still not really able to explain this work of art and crafts, still realized in Burma according to ancient techniques. Anyway, we can say a few words about the concept.
The master sculptor, the one who knows everything about the Buddha's positions, the calm features that he will have to present, the light and enigmatic smile, the split eyes that seem to follow you as you move in front of him, the many folds of his garment ... begins by forming a coarse clay shape, which is then covered with a layer of wax, a mixture of beeswax and paraffin. This layer of wax that will be finely engraved and sculpted in the image of the Buddha, with all the dexterity of the artist.
The finished sculpture is covered with another layer of clay, or with a mixture of earth - papier maché - plaster - clay - and then put to dry.
Through a web of small holes and channels, molten bronze (1000 ° ?) is cast in this set, replacing the wax that flows outside. After a few days of cooling and with the greatest precaution, the bronze statue is extracted from its clay sarcophagus. A very long sanding and patina work, carried out by expert workers, begins.
These Buddha statues are intended to be offered by individuals to the pagodas as donations to get a better next life, or positive events in that one. Many years later, for a generation or more, the statues emerged from the pagoda, to make room for new offerings. They are quarantined to remove their sacredness.
The well-introduced visitors can make donations to the pagoda or monasteries, in sound and stumbling currencies, but much more often in financing renovations of the buildings and then leave with these splendid statues.
We have often accompanied some of our friends through Shan Country and around Mandalay and this is how we were able to access these beautiful Statues. We were able to bring them back to France, after long formalities with the various ministries to obtain the authorizations and the little red wax stamp. 
Data sheet
Type of product

Art - Sculpture

Type of product

Antics

Gift Ideas

For Travellers
No customer reviews for the moment.